She's the one.   And the time is right.   You've got a ring ready and looking for a romantic place to tell her, to ask for her hand.  Somewhere romantic and a little extra special, because she's worth it.
Coming to Fredericksburg for a getaway weekend is a great "cover." It's casual enough to not suspect too much, but a unique enough of a destination to also be romantic and story-worthy.  B&B's set in hill country scenery, the nostalgia of strolling historic Main Street, boutique non-franchisy restaurants, craft breweries, Enchanted Rock, original hardwood floor dancehalls for boot scootin… and of course, vineyards!
There are so many beautiful vineyards in Fredericksburg and Stonewall, but my favorites to recommend for proposing are Grape Creek Vineyards, Becker Vineyards and 1851 Vineyards.  Here are my thoughts on each of them! 
If having your proposal photographed by a professional is right for you (and I think you'll be glad you did! and she probably will be too haha!), I recommend planning to propose on a Friday or weekday evening.  You might find that most photographers, myself included, will be more available.  In general, Saturdays are booked up long in advance for weddings or portrait session for wedding clients.  And you can spend the rest of your weekend celebrating together, rather than being super nervous and guarding the ring box!
Depending on what time of year you're planning to propose, here are a few suggestions based on the best of each season:
Spring & Summer places to propose in Fredericksburg (late March through early October)

Fall & Winter places to propose in Fredericksburg (Mid October through early March)

My surprise proposal photography sessions are $350 and includes:
Phone consultation to talk locations and strategies for keeping it a surprise!
Candid photography coverage during your proposal
A 15 minute mini engagement portrait session after your proposal
5 digital "highlight" images texted to you within 3 hours of my departure so you'll get a few pro-pictures that night to share the news!
An online proofing gallery within 10 days of at least 30+ photos of the whole event
High-resolution digital files are available for purchase at $10/each or $150 for the whole gallery of digital images in high resolution, printing rights included
Contact me today to check availability for your Fredericksburg proposal!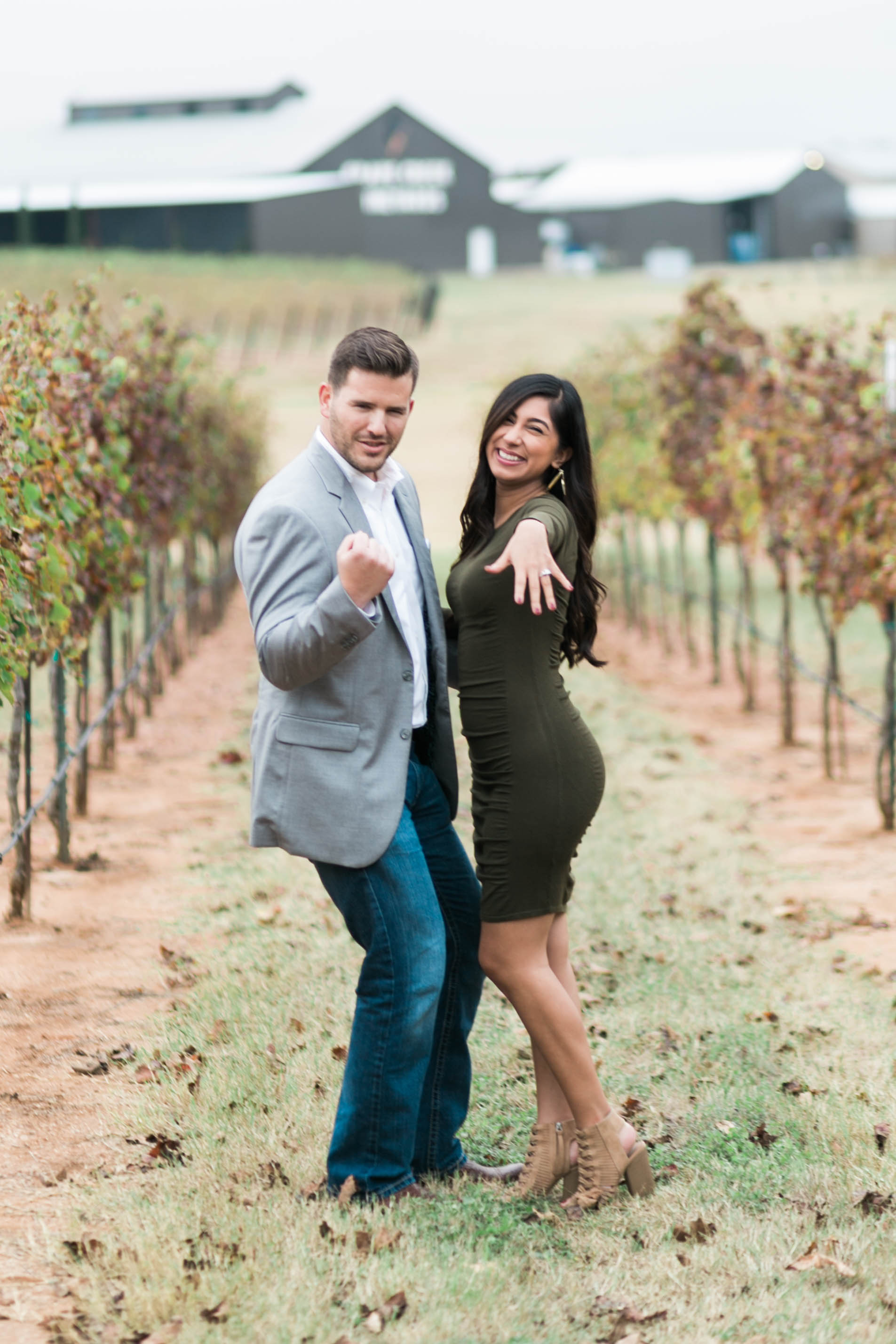 "I want everyone who reads this to take away one thing if nothing else – asking Lori to help me with my proposal was the BEST decision I made throughout the entire process. I proposed to my now-fiancé last weekend in Fredericksburg, it was absolutely perfect down to the last detail!  She went SO far above and beyond being a photographer.  I had never been to Fredericksburg before, so Lori sent me recommendations for restaurants, places to stay, things to do that weekend, helped me plan and finalize the details of how I was actually going to pop the question, coordinated everything with the manager of the winery where I proposed, and last but not definitely not least, captured the proposal and all of our emotions that evening with amazing pictures.  Needless to say, I cannot thank Lori enough for everything she did for us!"  – Jonathan B, Google Reviews
"Lori helped me plan surprise proposal at Becker Vineyards. When I first contacted her, I was a bit lost and unsure how I'd be able to pull everything off. I just knew that I wanted to propose at a Vineyard. She was a big help with giving me specific ideas of what to do the day of and coordinating with the Vineyard beforehand. She went above and beyond in helping me keep the proposal a surprise from my now fiance. All in all, she was professional with everything she did for me and is a great photographer. The pictures turned out excellent. I would recommend Lori to anybody looking to hire a photographer for a proposal or anything else." Kris M, Google Reviews